We provide a wide range of services for
international patients including: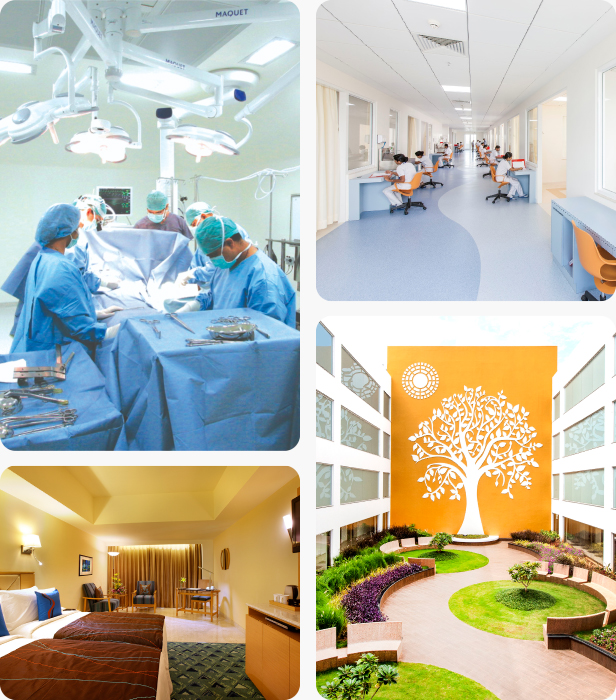 Quality healthcare is a prime need for everyone. Coming with the same belief and persevering towards making health care services available and accessible to all, we at Jupiter Hospital have a well-planned approach to make the medical trip successful for the patient. We will help you with following

Medical Opinion and Expense Estimate
Get medical opinion from our adept professionals, based on the patients' case study and medical history, along with a tentative estimate of the expenses that you may incur, even before you visit the hospital.

Rest assured to receive a reply to your queries within 48 hours, followed by details on the number and the type of medical assistance that may be needed.

We provide medical VISA assistance letter on receiving the passport details of the patient and the attendant.

We also provide help in booking hotels/guest houses/service apartments as may be needed by the patient.

All major international credit cards are valid for payment at Jupiter Hospitals.

Once you are discharged from the hospital, you can easily access our consultation services through our user-friendly online phone, video, or email and stay connected with us.
Organ Transplant available at Jupiter

Kidney Transplant
Kidney transplant or renal transplant is the organ transplant of a kidney into a patient with end-stage kidney disease.

Bone Marrow Transplant
A bone marrow transplant is a medical procedure in which bone marrow, the spongy tissue inside the bones that produces blood cells, is replaced with healthy bone marrow.

Liver Transplant
A liver transplant is a surgical procedure in which a diseased or damaged liver is removed and replaced with a healthy liver from a donor.

Pancreas Transplant
A pancreas transplant is a surgical procedure in which a healthy pancreas is transplanted into a person whose pancreas is not functioning properly.

Intestine Transplant
Intestinal transplant is a surgical procedure aiming to resolve intestinal failure as well as manage other complications related to parenteral nutrition (PN).
Know their stories of successfully overcoming difficult ailments
Have a query? Find it in our FAQ section and get your questions resolved.
Where can I share my reports?
Once your appointment is confirmed you will have a complete account of information related to transportation, accommodation, consultant appointments, surgery planning, approximate cost estimates, stay period etc. to make an informed decision.
Who will take care of my visa application?
Once your appointment is confirmed, your coordinator will send an appointment confirmation mail that can be used for your Visa Application.
How will I manage local travel in the city?
We at the Jupiter Hospital, Thane, Mumbai, assure you a stress free medical care. Once your appointment has been confirmed, your care coordinator will assist you with any transportation and accommodation related to your visit. For your convenience, we can arrange for a vehicle to take you to your hotel when you arrive at the local airport. One Pickup and Drop is complimentary for those patients who require direct admissions.
Where will my stay be arranged?
Our team can help make lodging reservations suited to your needs and budget. We have our own ITC Hotel "Fortune Park Lake City" in hospital premises that has reduced rates especially for our hospital guests. For more details visit Fortune Hotel website: www.fortunehotels.in Alternatively, the International Patient Services team can help you with hotel discounts at most hotels in the Thane area and its surrounding region too. Apartment accommodations are available in the Thane area for patients who are staying for a long-term or prefer a more home-like environment.
Fill The Form To
Connect with us